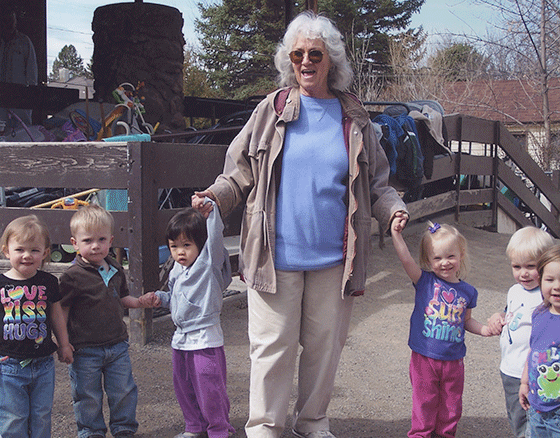 Our Programs
Our preschool is a morning program Mon,Tue, Thu from 8:30am to 11:30am run the same calendar dates as the Columbus School District. (usually the first of September through the end of May.) Our enrollment as of September 1, 2016 is open to 3 year olds (potty trained), 4 & 5 year olds, adding some "Older 3's" if space permits. We work on getting the children "Kindergarten ready" - not only the cognitive skills (A,B,Cs, writing name etc) but the much needed social skills of listening and following directions in a group setting. Each Wednesday, we have the pleasure of welcoming Robert from the county library, who brings his guitar for fun sing a long songs and ending with a new book reading. At least once a month, sometimes more, the children get to interact with the "Grandma's and Grandpa's" at the assisted living complex where they perform songs, hand out their "art creations" along with hugs.

SUMMER PROGRAMS:
We continually expand our summer camps and field trips - and appreciate new ideas and input from our parents and children. Wilderness camps, community field trips, pool trips 4-H fairs are just a few ways we help our children enjoy their summer.
Our Staff
TEACHERS:
Kid's Club "family of teachers" is composed of 12 enthusiastic, warm and friendly caregivers. Their love of children is evident in their daily guidance and interactions. All are CPR and First Aid certified along with undertaking eight hours of childcare training each year.

CORPORATE BOARD:
Our Corporate Board is governed and overseen by a group of concerned volunteer citizens of our community. This group meets once a month or more often when needed. Each member serves a two year term and is responsible for insuring that Kid's Club is a fiscally well run center. The Director of Kid's Club reports to the Corporate Board and oversees day-to-day operations. We are thankful for all of the time and insight each of our Board members have provided.